My wife and I needed a new coffee maker for our daily coffee needs. At first, I was leaning towards getting a Keurig. I know it's not the best quality coffee but I really needed something quick every morning to give me that much-needed caffeine fix.
I love a good pour-over, espresso, or french press, but I've got like 5 minutes to get out of the door y'all. Ain't got time for that.
But then I came across the Ninja Specialty Coffee Maker.
Here is a machine that could give me a quick and delicious single-serving coffee without being forced to use lesser quality K-cups. Not only that but it had all sorts of brewing options for all kinds of occasions. Iced or hot, 1 person or 10, concentrated espresso or a traditional drip. Super-versatile!
I pulled the trigger and bought the Ninja Specialty Coffee Maker. After owning this machine for about 3 months I can say without a doubt that it was worth it. If you are on the fence about buying this product, please read this post that will tell you everything you need to know about it.
Want to skip the article and read our final verdict? Click here.
What Does It Come With? Unpacking the Box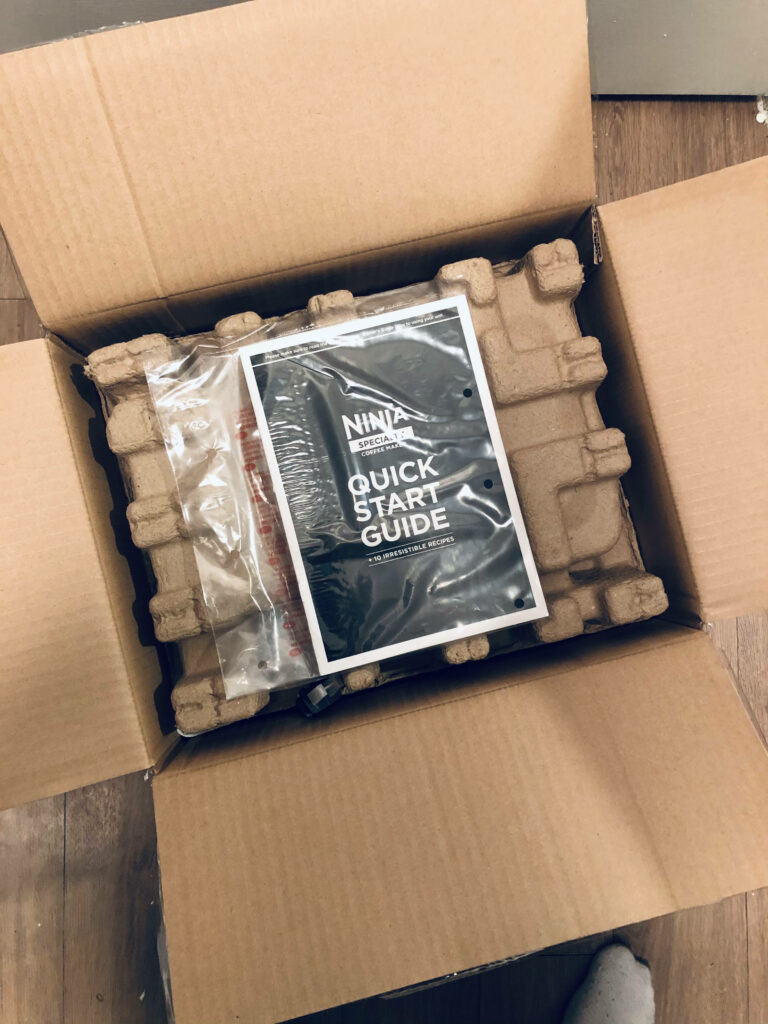 First, let's talk about what comes with your Ninja Specialty Coffee Maker. The specific model I purchased was the CM401A. They are all pretty similar though.
This coffee maker comes with the machine itself, a water reservoir, a measuring scoop, a 50 oz glass carafe with a brew-through lid (This is a well-designed lid that seamlessly transfers coffee to the carafe and allows even coffee disbursement), a reusable filter, and a milk frother.
In addition to these tools, you get an owner's guide and their quick start guide which has information on how to use the Ninja Specialty Coffee Maker as well as recipes to get you started on all of its wonderful features.
How Big Is It?
Here are the exact dimensions: Product dimensions (in.): 12″ L x 8.8″ W x 15″ H
If you are more of a visual/descriptive person, I'll do my best to give you an idea of where this coffee machine can sit.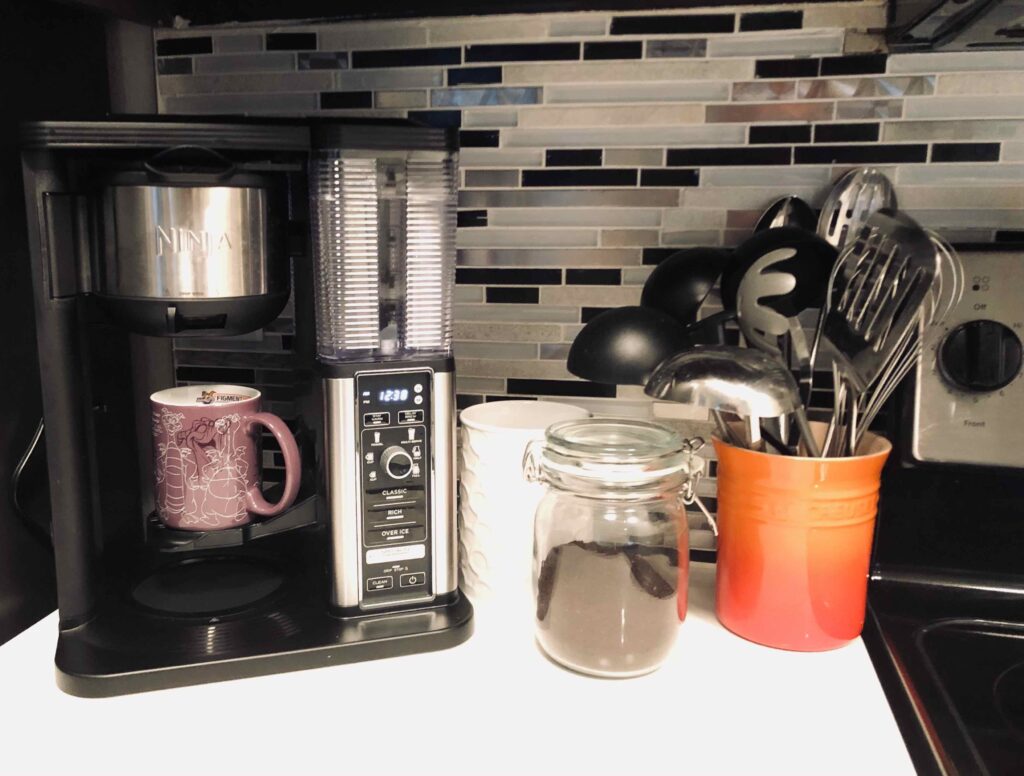 As you can see, the coffee machine fits snuggly on the small bit of counter space we have next to our oven.
When looking for our efficient coffee machine, we also needed it to be as small as possible. Why? Because our current kitchen isn't too big and we didn't have much counter real estate left.
I'll admit, there are much smaller coffee machines out there than the Ninja Specialty Coffee Maker. But is there something smaller with all the features this coffee bar has? I don't think so.
What I love about this machine is that it's efficient with its size. The milk frother folds back nicely, there is an indent on the side to hold your scooper, the water reservoir is designed so that it wraps around the machine to conserve space, and the chamber that holds the coffee swings out to you so that you don't have to put the coffee grounds in above the machine.
We can tuck this coffee maker underneath the kitchen cabinets without any issue.
Brewing sizes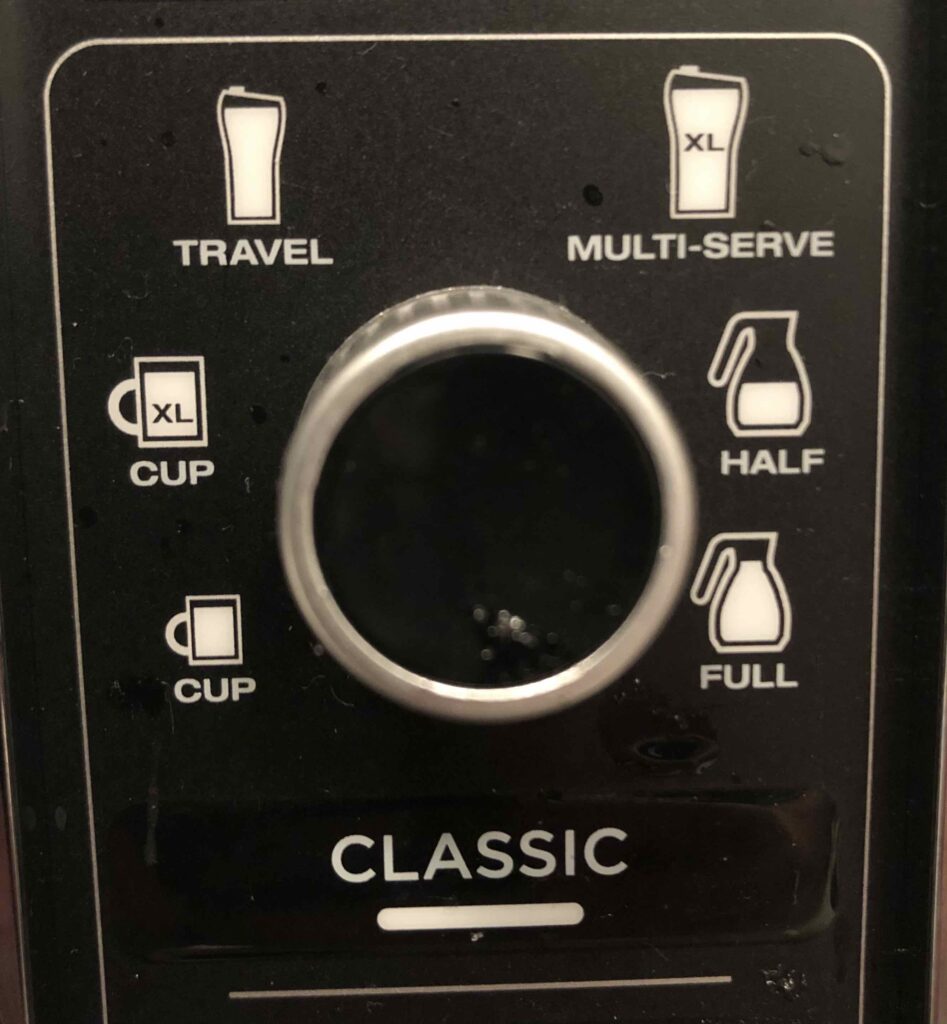 There are 7 options for brew sizes. A cup, an XL cup, a travel mug, an XL travel mug (also called a multi-serve), a half carafe, a full carafe, and finally a specialty concentrated option which is 4oz. This last option is also a brew option because it changes the concentration of the brew to be a stronger, espresso-like brew.
For the smaller sizes, you have a convenient platform that folds down so you can place your coffee mug closer to the spout of the coffee maker.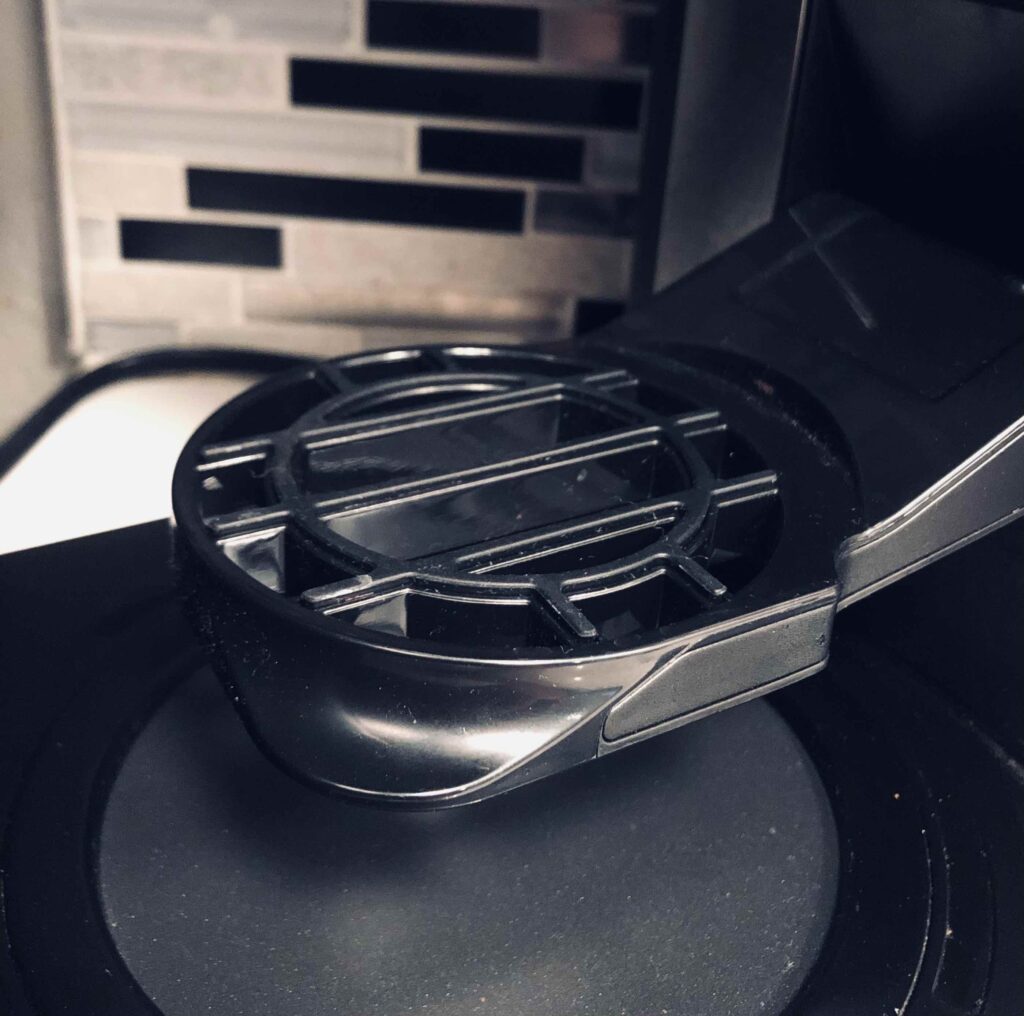 This little platform has a really nice rubbery finish which makes your coffee cup feel secure. Very convenient if you are making iced coffee. We've all experienced how glasses with ice inside of them like to slide around hard surfaces and smash on the floor.
I've used all these brew size options and here is what I found works. The cup size is what I use for my daily coffee mug. I put in about 2 and a half scoops from the small side of the measuring tool and that seems to work great for me.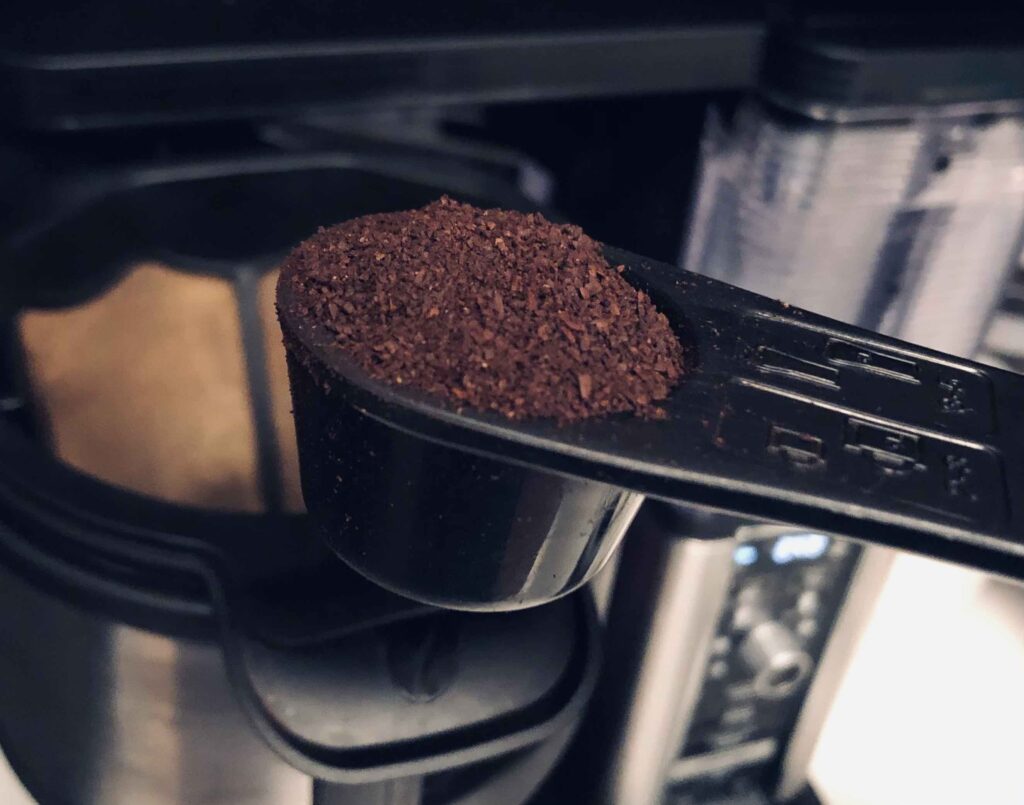 This option tends to fill my coffee mug slightly more than I would like but for most people who drink their coffee black or with a little bit of half and half it should be perfect.
The XL cup would probably be ideal for someone who likes huge coffee mugs. For me, I found this option to be perfect for a travel thermos. The travel size option for me actually seems to work better for a large travel mug and the XL travel multi-serve option is what I use if I'm making coffee for 2.
The different brew sizes give you a lot of options. Even though they may not serve the purpose that the machine intended, they fill virtually any desired coffee amount you can think of.
Brewing Settings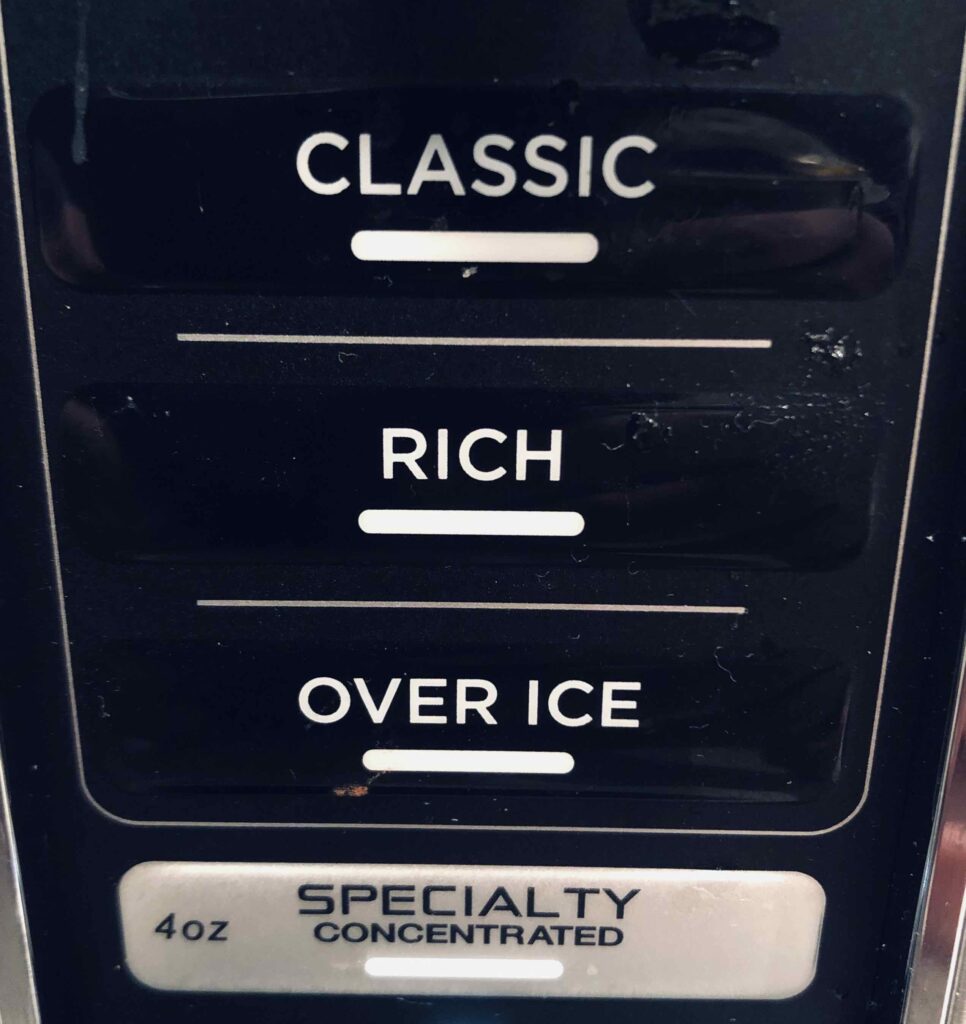 You have 4 brewing Settings in addition to the size options with the Ninja Specialty Coffee Maker. Here they are:
Classic: Just as it sounds, this is the option to brew your standard cup of joe.
Rich: Like a little more kick to your coffee? Rich will brew slower and bolder. Personally, this is what I use. Because it's slightly more concentrated this option will brew slightly less with each brew size option.
Over Ice: Another thing I love about the Ninja Specialty Coffee Maker is its versatility in making iced coffee. At first, I was skeptical. Are they just going to pour hot coffee over ice and call it iced coffee? But no, somehow this option provides iced coffee that is delicious and not watered down. When it pours through it's still coming out hot. How does it keep the iced coffee from being watered down? I don't know, magic? In all seriousness, the smart water system seems to design a slow and concentrated pour that limits the amount of ice melting.
Specialty Concentrated: I also listed this as a size option because it pours out specifically 4 oz's but it's technically one of their brewing settings. This option gives you a highly concentrated espresso-like coffee. Is it a real espresso? No. But it's pretty dang close. And delicious.
Coffee Measuring Tool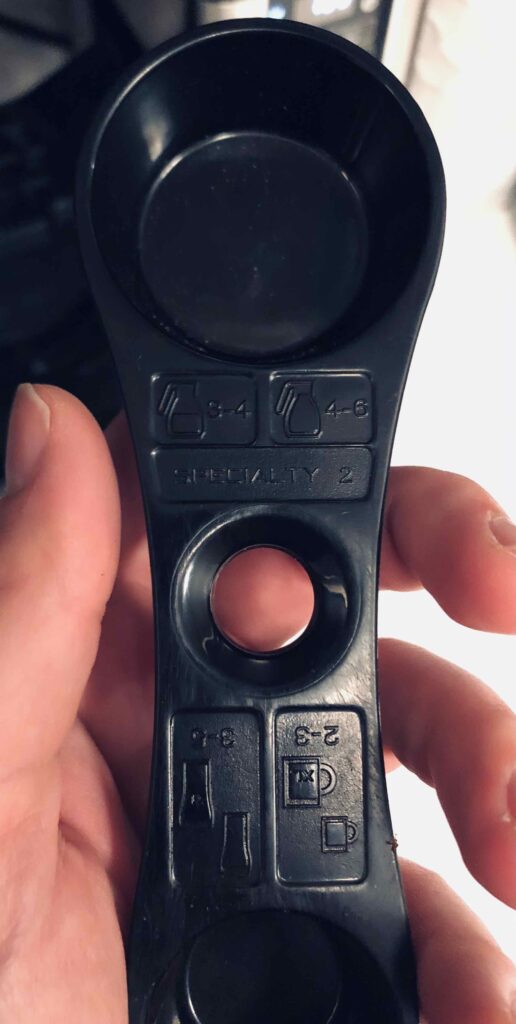 With your Ninja Specialty Coffee Maker, you will receive a coffee grounds measuring tool. What is nice about this measuring tool is that it has engraved the recommended scoops for each setting on it's the handle. This is very handy.
And if you are wondering how accurate these coffee ground amount recommendations are, I would say they are very accurate.
They give you a range, like 2-3 scoops, and you can make a judgment call on how strong you enjoy your coffee. I put the high end of the recommendation in. Because I'm addicted to coffee.
The Smart Water Feature
This feature is one of the best features of the Ninja Specialty Coffee Maker. Instead of filling up the coffee pot with water, reaching over the top of the machine to pour in the correct amount of water, and spilling half of it on the kitchen counter, you simply press a button and the machine will take the correct amount of water for the selected setting and brew a perfectly measured cup every time.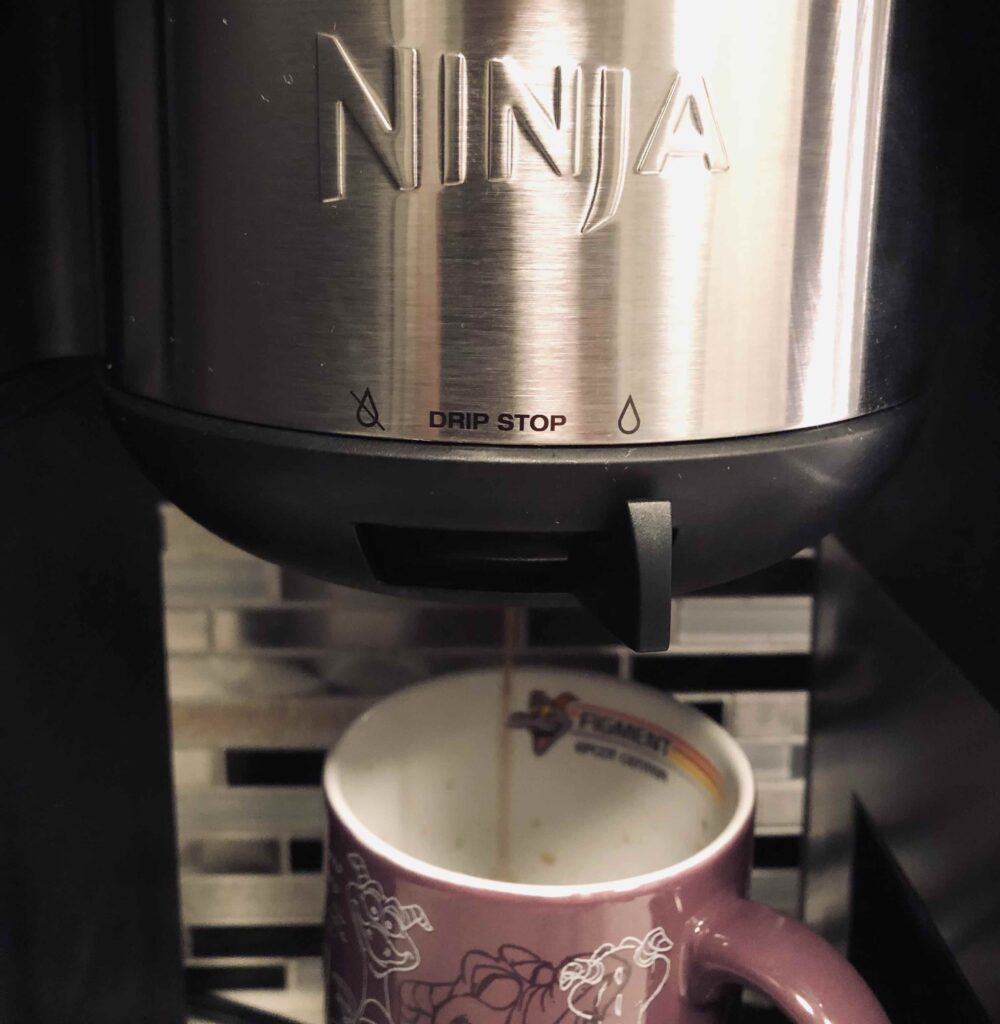 All you need to do is occasionally fill up the reservoir which is easily detached from the machine to place under a kitchen faucet.
A lot like a Keurig machine but with many more options.
Heated Plate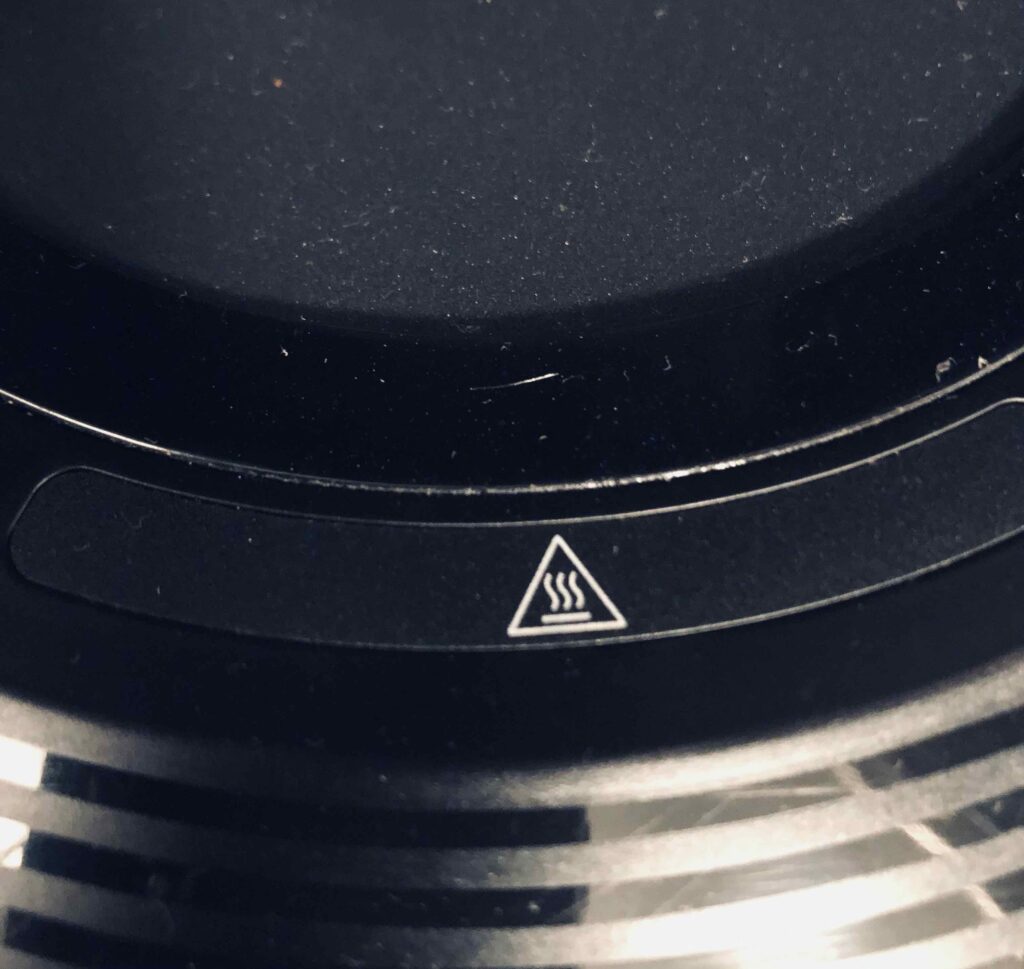 Like many coffee makers, the Ninja Specialty Coffee Maker has a heated plate to keep a half or full carafe hot.
The heated plate will keep your coffee hot for about 2 hours. In addition to having an indicator that tells you the hot plate is on, it also has an indicator telling you the hot plate is warm so that you don't accidentally burn yourself thinking the hot plate is off when it could still be hot.
Milk Frother
If there is one feature on this machine I find underwhelming it is the milk frother. It's essentially a simple, vibrating frother that will froth your milk but won't heat it up.
But hey, it's still a nice addition. As long as the liquid is already hot you can mimic the taste and feel of a latte or cappuccino. But if you are expecting to go all out barista and make an authentic cappuccino, you might be disappointed. If this is your goal you will need to invest in a more expensive espresso machine.
Drip Stop Mechanism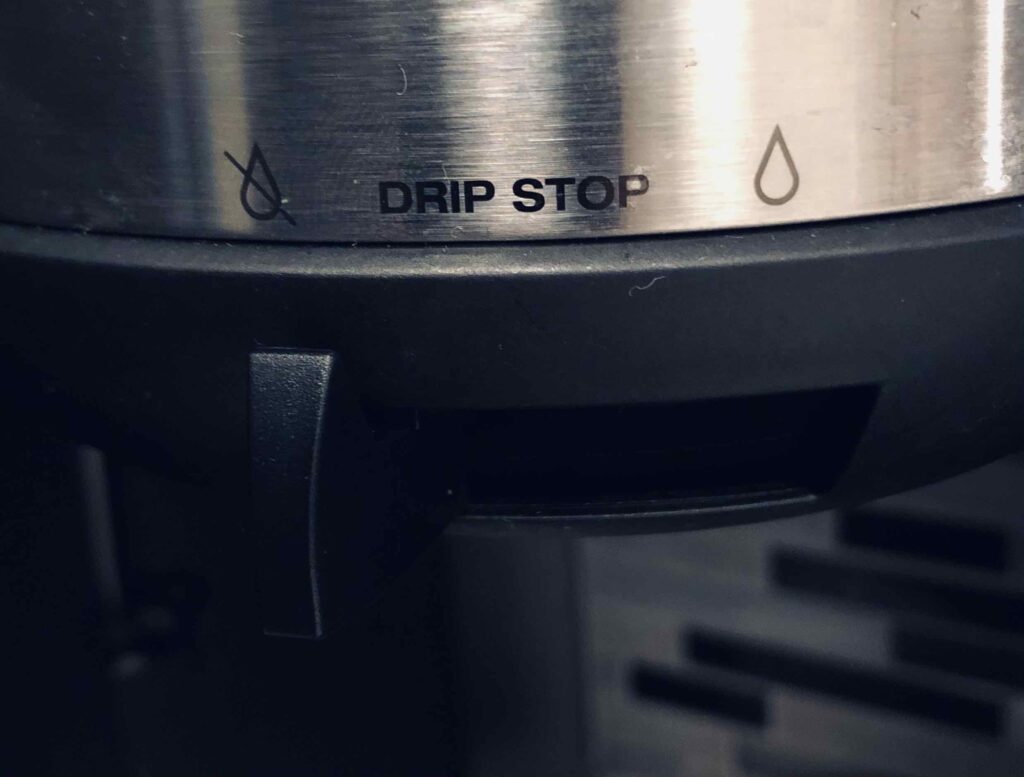 To me, this feature is a game-changer. But then again, I'm kind of a clean freak. There is a simple lever you pull to the left that will stop the coffee maker from dripping any more coffee into your mug or carafe.
Why should you care? How often have you pulled a mug or coffee pot from an automatic drip and had that one or two coffee drip stragglers drop onto the heated plate? This drives me nuts.
The drip stop will stop any more coffee from coming out. If you forget to turn the drip stop off, don't worry. The machine will buzz at you to turn it off before it starts brewing again.
Ninja Customer Service
One thing that's very important to me is good customer service. Lucky for you, I got to personally experience Ninja Customer Service so that I can give you a good review.
Why did I have to contact Ninja Customer Service? Because one day while we were putting ice into the ninja glass carafe it decided to just shatter. No warning at all.
Having only bought the product about 3 months ago, I decided to call Ninja's customer service and see if I could get a replacement. Long story short, they replaced my carafe free of charge!
Here is how it went down.
I called Ninja and after selecting a few different options I was in touch with a representative in about 30 seconds. I was calling in the middle of the day on a Saturday.
They had me explain the problem then send them the model number. Then the guy sent me a link that connected me to a video conference website so that he could visually see what was going on.
Of course, all I had to show was a shattered glass carafe, he was like "Oh, you broke it." And I was like "Yes but all I did was put ice in it and it shattered."
Two minutes later he got my address and said they would send me a free carafe. It was under warranty so that helped. The warranty is not something I purchased, just some standard product warranty.
Anyway, needless to say, I had a good experience. Honestly, all I had to show was a shattered glass carafe. Anything could have happened to it. Heck, my toddler could have chucked it across the room. But nonetheless, they did not hassle me about it. Thanks, Ninja!
SCA Awards
The Ninja Specialty Coffee Maker has been awarded the Specialty Coffee Associations Golden Cup standard of coffee.
What does this mean? Well according to the SCAA's guidelines coffee makers with this award have to meet certain requirements that are arguably very important for producing great coffee. Basically, this means that professionals have already tested this coffee maker to make sure it produces quality coffee.
Price Vs Value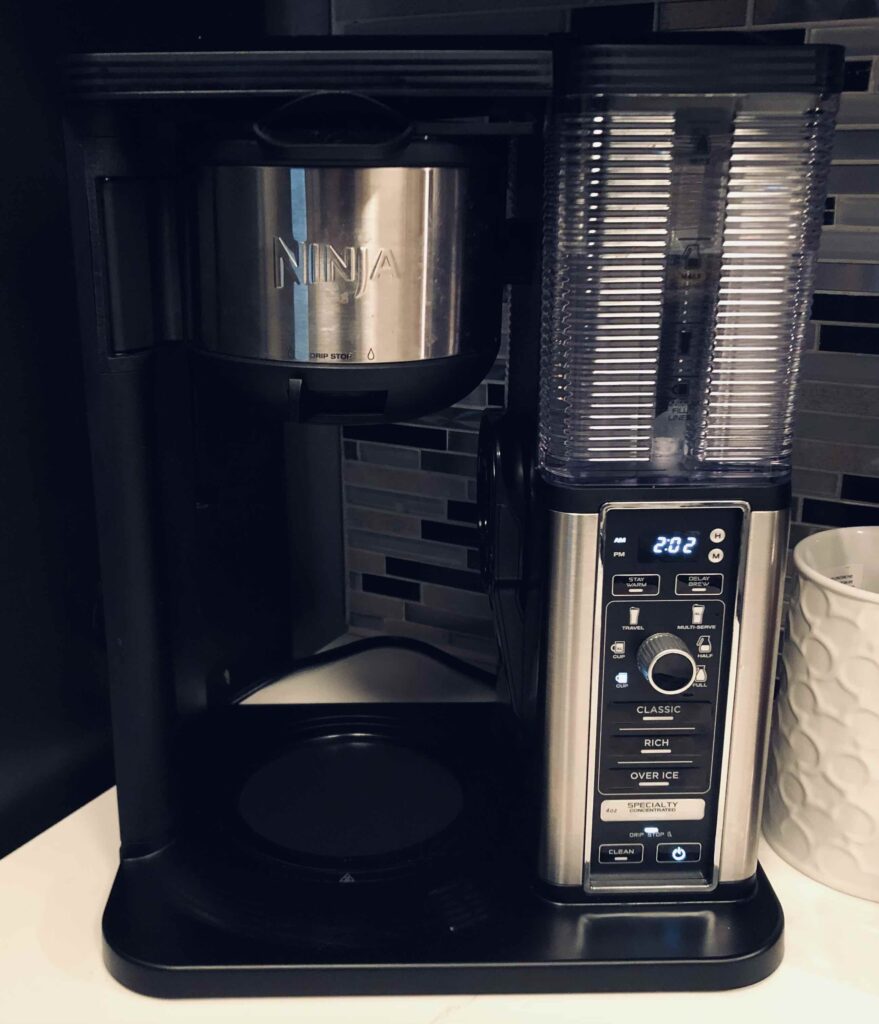 Is it worth the cost?
Now, this is a tough question to answer. What is a $130+ coffee maker worth to you? I mean, clearly, you get a lot out of it. Multiple brew sizes and styles, a frother, smart water calculation technology, SCA awarded, etc. These kinds of perks come with a cost.
In my opinion, I think it's worth it. I was ready to purchase a fairly expensive Keurig just so I could have convenient coffee every day. This machine gave me a convenient single-serve and much more.
You are not going to get the créme de la créme of all coffee makers, for that you will need to go all out and spend your children's college savings on it. But without having to sell your internal organs you can get a very impressive coffee machine that will do almost anything you want it to do.
Is it overpriced? No. Is it underpriced? No. Is it Goldilocks priced? You betcha.
Competing Ninja Coffee Machines
The Ninja Hot and Cold Brewed System is pretty much the Ninja Specialty Coffee Maker's fancy older sibling. It's arguably more stylish, although that is personal preference I guess, and it allows for you to brew tea.
Ninja understands that not all tea is brewed the same, so this machine actually changes its brew settings based on the style of tea! There is a setting for herbal, black, oolong, white, and green tea.
The only problem, this coffee maker is significantly more expensive. Like $200. If money isn't an object, go for it. The Ninja Hot and Cold Brewed System offer even more than the Ninja Specialty Coffee Maker.
But if all you want is coffee and you don't like to blow through your money, stick with the Ninja Specialty Coffee Maker.
The Ninja Coffee Brewer is essentially your classic automatic drip coffee maker with a few perks that differentiate it from any old coffee machine.
For starters, it comes with a detachable water reservoir like the other Ninja Coffee Makers which makes adding water much easier. All you need to do is place it underneath the faucet.
Also, this coffee maker's carafe holds 60 oz of coffee which 10 oz more than what the Ninja Specialty Coffee Maker can hold.
The Ninja Coffee Brewer is more restricted in its brew settings. It has two brew settings, rich and classic. It also has two size settings: 12 cups and a small batch of 1-4 cups. However, keep in mind that this coffee maker doesn't have the smart water technology which measures exactly what you need. The 1-4 batch simply makes sure that the coffee doesn't come out diluted. It will still use up all the water in the reservoir.
Should you Buy the Ninja Specialty Coffee Maker?
If you are looking for a single-serve coffee machine that can also produce multiple servings, then yes you should purchase the Ninja Specialty Coffee Maker.
Honestly, those coffee pods can get expensive for relatively mediocre coffee. Plus they're bad for the environment! Save the world and your wallet by getting this Ninja machine.
If you didn't read through the entire post, here is a summary of all the things I love about this coffee machine and some of the things that are not so great.
Pros
Lot's of brew sizes and options. Perfect for a large group, a single-serve, and everything in between.
Convenient size
Smart water technology knows exactly how much water to measure based on the setting.
The ice coffee feature works surprisingly well.
The coffee Measuring tool has handy scoop recommendations.
Drip Stop mechanism
Cons
Milk frother only froths it doesn't heat up.
Each brew size option is just a tiny amount more than what I want.
Have anything else you want to add about this coffee maker? Feel free to leave a comment below!