The popularity of the Keurig has exploded over the past decade as a convenient solution to the hustle and bustle lifestyle. Wake up, put in a new pod, press a button, and voilá, you have a cup of coffee to start your day.
However, we've all had those mornings that require a bigger kickstart. Wouldn't it be nice to control the strength of your Keurig coffee? Well the good news is that with introduction of the Keurig 2.0, that is now possible!
You may have noticed that higher end models of Keurig machines have a "strong" button. What does this Keurig strong button do?
Keep reading to find out!
How Does Keurig's Strong Button Work?
The simple answer, the strong button extends the brew time of the capsule. In order to do this your Keurig coffee machine will release hot water in intervals instead of a steady stream. The goal is saturate the grounds inside the capsule longer in order to extract more flavor.
The Keurig is popular because it can make you a quick cup of coffee. However, if strength is what you desire, you will have to wait longer than normal. The strong setting increases brew time to over 1 minute while the normal setting less than 1 minute.
Why Does A Longer Brew Time Make Stronger Coffee?
Despite what you might think, coffee doesn't brew unilaterally. In fact, different flavors are extracted at different times during the brewing process!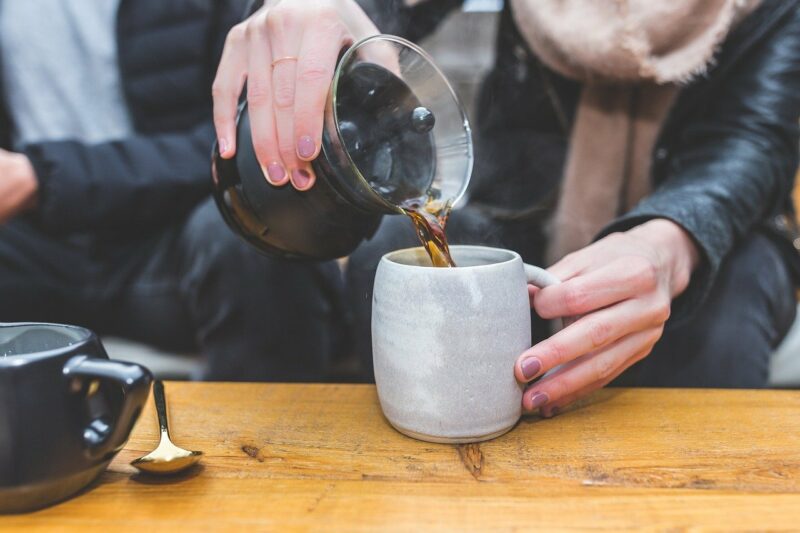 During the coffee extraction process that occurs when we brew our coffee, the first compounds extracted are acids and fats. The acids give us sour flavors while the fats add body to the coffee.
Next in line in the extraction process is the sugars. As you can imagine, this gives us the sweet notes of coffee.
Finally, after energy from the hot water has enough time to break down the plant fibers of the coffee grounds, the bitter flavors will be extracted giving you that "strong" coffee taste.
The second reason why a longer brew time can make your coffee stronger is due to the fact that coffee strength is related to the number of dissolved compounds in the drink.
It stands to reason that if we can soak the coffee grounds in hot water for a longer period of time, more of the coffee will be extracted and therefore you will have a higher percentage of coffee dissolved in the drink.
Will The Keurig Strong Button Increase The Caffein Content?
Not necessarily, the coffee will be bolder however, the caffeine content is more dependent on the type of coffee bean used and the amount of coffee.
If you really want to increase the caffeine content in your coffee consider using something made with Robusta beans. A great example, Death Wish Coffee!
We earn a commission if you click this link and make a purchase at no additional cost to you.
Other Methods To Brew Stronger Coffee With A Keurig:
If you are seeking a stronger Keurig cup of coffee and the strong button is not doing it for you, then you could try one of these other methods to brew a stronger cup!
Brew Stronger Keurig Coffee By Brewing In A Smaller Cup
The strong button will make a strong cup of coffee by brewing the Keurig K-Cup longer. However, you can achieve similar results by just brewing your coffee into a smaller cup using the smaller cup setting on your machine.
Preheating Your Keurig
So yes, the Keurig preheats water before brewing your coffee. But according to the Thrillist, if you run a cup of water first and then immediately run a K-cup through, you can increase the brew temperature by a few degrees.
This could increase the strength of your coffee.
Double Cup
First, choose the smallest setting possible on your Keurig. Then brew one k-cup followed by another.
No economical but this will give you that kick you need!
Use Your Own Coffee
Purchase a reusable K-cup and put your own coffee grounds in it. You will be able to customize the strength of the coffee by using stronger grounds or grinding it in a different way.
Keurig My K-Cup Universal Reusable K-Cup Pod Coffee Filter, Compatible with All 2.0 Keurig K-Cup Pod Coffee Makers, 1 Count, Black
Easy to use, compatible with multiple brew sizes, it lets you customize how strong you want your coffee!
COMPATIBLE: K-Elite, K-Select, K-Classic, K-Slim, K-Mini, K-Mini Plus, K-Duo, K-Duo Plus, K-Duo Essentials, K-Cafe, K-Latte, Keurig Plus / 2.0 models
We earn a commission if you click this link and make a purchase at no additional cost to you.
Coffee extraction depends a lot on the ground size. Courser grounds will require longer steeping times to extract the same amount of coffee as finer grounds.
You want to find a balance between course grounds that will taste week and superfine grounds which will risk clogging your machine.
And of course, this method is way more cost effective and quite frankly better for the environment!
Are Darker Roasts Stronger?
If by stronger you mean bolder and more bitter flavors, then yes they are. Although a dark roast won't provide more caffeine, that depends on the type of coffee bean you use and the amount you use.
If you like the bolder flavor, consider buying some dark roast K-cups! Here are a couple of great examples:
We earn a commission if you click this link and make a purchase at no additional cost to you.
We earn a commission if you click this link and make a purchase at no additional cost to you.
We earn a commission if you click this link and make a purchase at no additional cost to you.
We earn a commission if you click this link and make a purchase at no additional cost to you.
We earn a commission if you click this link and make a purchase at no additional cost to you.
How To Fix The Keurig Strong Button
Certain Keurig models have a software error which results in the brew sizes not lighting up like they are supposed to when it's time to select an option.
The simple fix is opening and closing the capsule head as demonstrated in the video below.
Can You Use The Strong Button On The Keurig For Tea?
Yes absolutely. And you defiantly want to if you are using a tea capsule. However, the biggest problem with Keurig tea capsules is that tea really needs more time to brew. So the strong setting can really help with this.
Your best option is to just brew a hot cup of water and stick a teabag in it. You know, the traditional way.
What About The Keurig "Iced" Button?
There isn't much data out on the Keurig iced button out there. But I have found some information and here is how it works.
The coffee will initially come out slow and hot and then after about 30 seconds start coming out faster and less hot.
However, according to the YouTuber below, the temperature all around is less than what the normal setting produces. Starting off at 165 degrees as opposed to 171 degrees and then dropping to 150 degrees.
Makes sense, the goal is to brew coffee but to melt as little ice as possible.
Watch below for a great review of this system.
Conclusion
To recap, the most important thing to remember about the strong button on the different high-end Keurig models is that in order to make the coffee stronger, or bolder, the machine brews the k-cup at a slower speed and in intervals which increases coffee saturation and extraction.
In doing this, the brewing process is able to enter into that 3rd stage of extraction which involves more bitter flavors we associate with a bold cup of coffee.
This will not caffeinate your coffee any more than the regular setting, however, it is nice to have an option to give you a stronger flavor!